NOTICE TO PARENTS & GUARDIANS OF WEBBERS FALLS STUDENTS: Due to the increased number of Covid-19 cases in our school and community, our students will be placed on distance learning effective Monday, November 16th, and will not return until Monday, November 30th. Students will be expected to attend class virtually the week of November 16th-20th. The following week (November 23rd-27th) was our scheduled Thanksgiving break, so no work will be assigned during that time. We are asking that parents and guardians ensure that students log into their Google Classroom classes each day and complete the work that their teachers have assigned. School work during this distance learning time is not optional; it is required. If you need assistance with internet access, please contact the school. During the week of November 16th-20th, we will offer curbside lunches that may be picked up between 10:30 a.m. and 12:00 noon. Please contact the school by 9:00 a.m. each day to pre-order lunches. We apologize for any inconvenience this closure may bring, but the safety and well-being of our students and staff must be maintained.

We will have a parade of veterans at 10:45 tomorrow. Veterans who would like to take part should meet Mrs. Ruckman on the west side of the gymnasium at 10:40 to line up vehicles. Lunch for Veterans will follow in the cafeteria. Our kids are ready to cheer for you!!!!

Congratulations to the October Virtual Students of the Month at Webbers Falls School. Our PK-5th Virtual Student of the Month is Carter Webb. Our 6th-12th Virtual Student of the Month is Rocky Greenfield.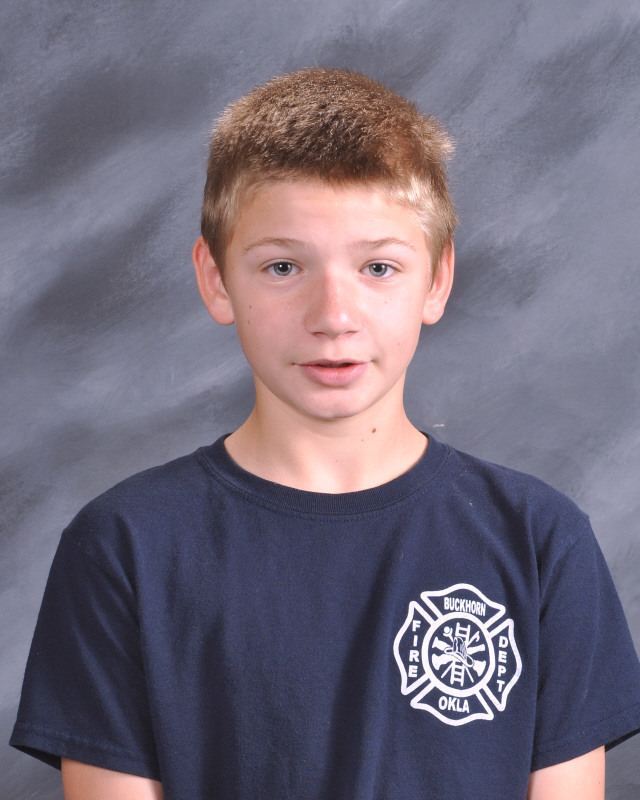 Congratulations to the October Students of the Month at Webbers Falls School. They are as follows: PK- Dylan Clairday, KG- Ryder Webb, 1st- Easton Shamblin, 2nd- Kaiyah Scruggs, 3rd- Addy Newcomer, 4th- Chance Young, 5th- Cason Newcomer, 6th- Laina Colston, 7th- Hailey Shanks, 8th- Talon Weaver, 9th- Anistyn Garner, 10th- Caden Dishman, 11th- Daylan Jarrard, 12th-Ashlyn Pense. .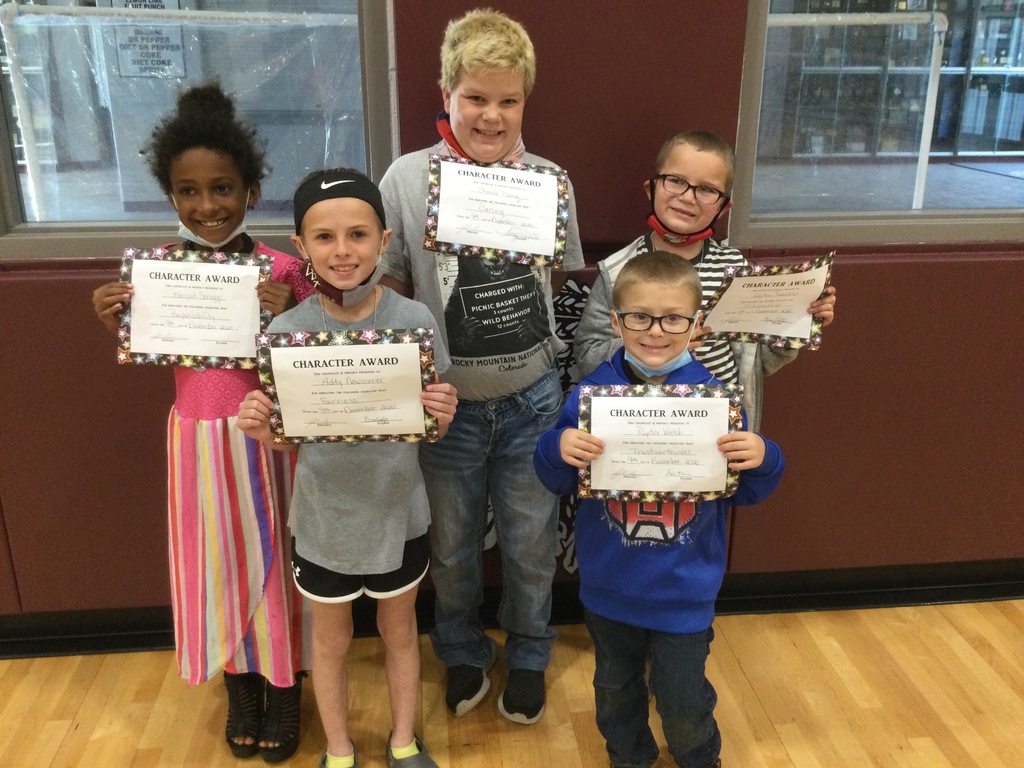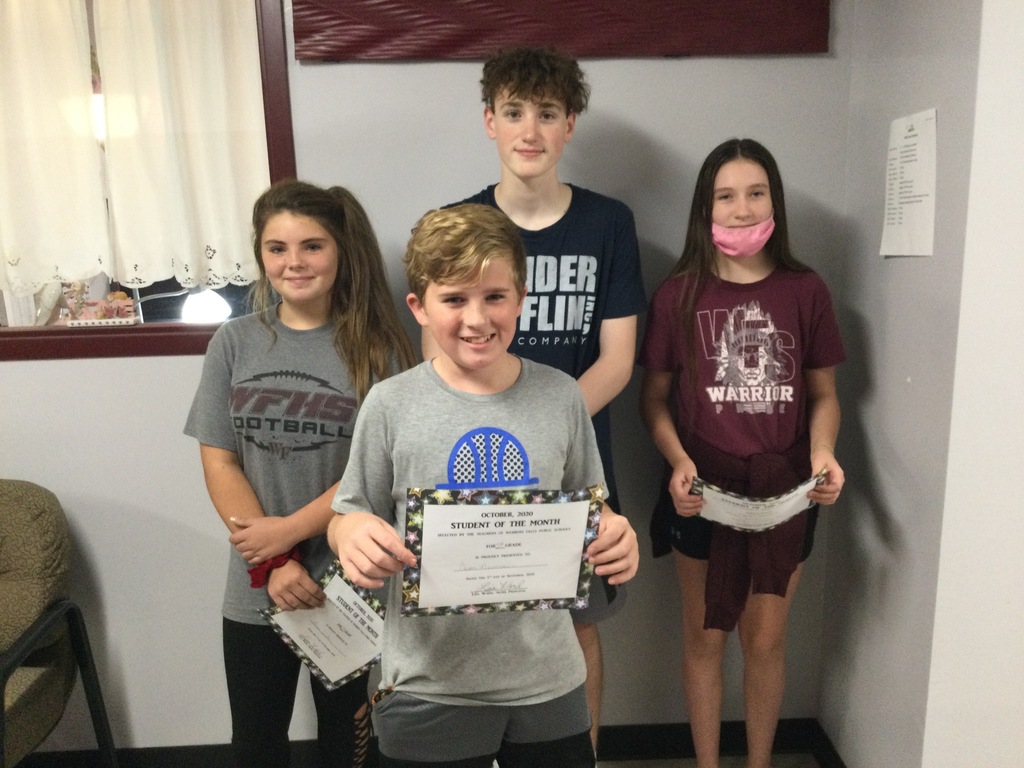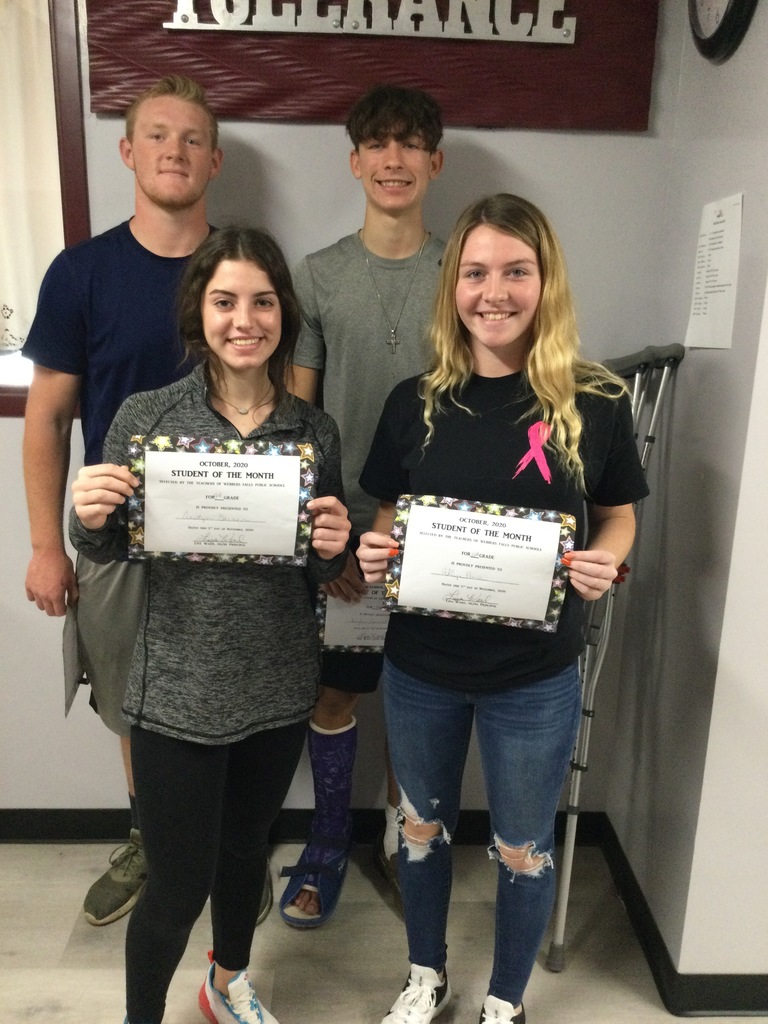 The NHS Induction Ceremony scheduled for this Thursday, November 12th, has been cancelled due to the football playoff game. When a new induction date has been set, it will be announced.

The elementary and junior high basketball games tonight at Sallisaw Central have been cancelled.

The high school football playoff game will be at home vs Cave Springs on Thursday at 7pm. Ticket prices are set by the OSSAA and are $7 for students and adults. Veterans can show their military ID or driver's license to allow the veteran and 1 guest free admittance on Thursday.
Starting on November 9, 2020 our Webbers Falls 4-H and FFA groups will be holding a food drive for non-perishable food items. These food items will be distributed to local families in need. The food drive will end November 19, 2020 at 10:00 AM. At that time we will weigh the food. The class that brings the most pounds of food will be awarded a pizza party!

28-0 Warriors at Half!

Many thanks to National Guardsmen Crain and Burns for donating jerseys for both teams to wear at tonight's game. As we approach Veterans Day we thank all veterans for their service. I snuck this photo during the singing of our National Anthem.

There is still time! Come on down to the school and donate blood! Every donor gets entered into a drawing for a $500 Visa Gift Card. We are here until 5:30! We have plenty of time for you to walk in and donate! We have had 20 units donated so far help us reach my goal of 30!!!

We would love to have our Veterans join us for lunch on November 11, 2020. We are also planning a parade of Veterans for that day. Please RSVP here or call the office at 918-464-2383 or email me at
mruckman@webbersfalls.k12.ok.us
and to reserve your Veterans Day lunch.

Angel Tree applications for the Webbers Falls & Gore Communities are due tomorrow. If you don't have a form you can get one at the school office.

Senior Night for our Seniors who play Fast Pitch Softball and Football will be held at 6:45 PM on Thursday Nov. 5, 2020. Seniors to be honored include: Ashlyn Pense, Lauren Pierce, Waylon Brasuell, Kyle Kimberlin, Josh Mason, and JD Moore.

We need donors tomorrow. You can make our blood drive a success!

The Warrior family regrets to inform you that our former Superintendent Dr. Swearingen's husband Graham passed away last Friday. In honor of the Swearingen family, Webbers Falls Schools will be hosting Mr. Swearingen's funeral in our gymnasium on Thursday November 5th. Because of this Webbers Falls School will not be in session Thursday November 5th but on our distance learning day platform for the entire school day. School Day pictures were scheduled for the 5th as well but have been rescheduled for December 11th. All other activities that day including the HS Football / Senior Night and Elementary Basketball will go on as planned.

There has been a change to our picture dates. Ruth Kelly will be doing School Day Pictures on Friday, December 11th. They will also be doing High School Softball, High School Football and Senior Pictures that day. Virtual Students may come between 9:00 a.m. and 10:00 a.m.

COVID has changed everything. We desperately want to honor our Veterans and their spouses. If you are a Veteran and would like to join us for a meal on Veterans Day at Webbers Falls School, please call 918-464-2383 to RSVP or leave a message here. Please let us know how many will be dining with us. We hope to see you there!