DISTRICT SOFTBALL UPDATE: Red Oak 22, Lady Warriors 14. We will be playing Indianola again in about 10 minutes.

DISTRICT SOFTBALL UPDATE: Lady Warriors 12, Indianola 0. (Run rule, 3rd inning) We will play Red Oak around 1.

The JH softball team will be playing in a one day festival at Braggs on Monday, April 29th. This is the schedule.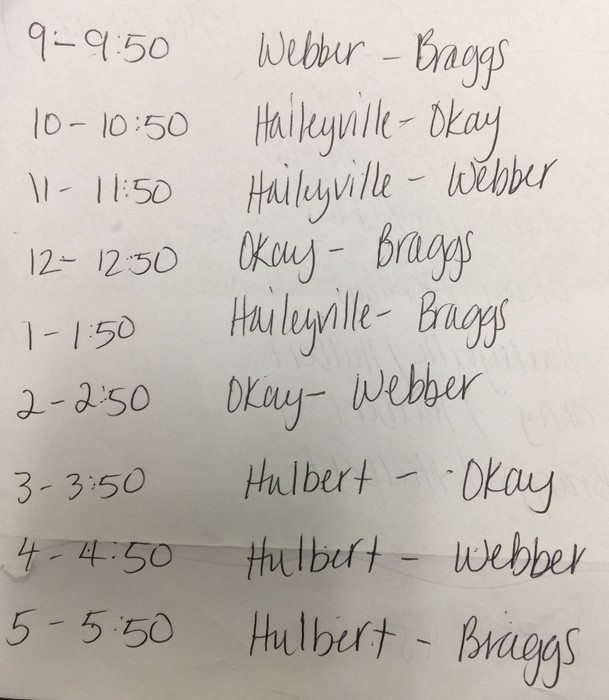 A special thanks to Diamond Gutter Company (Ronnie & Angel Davis, parents of Teralynn and Laina Colston) for donating snacks for the students of Webbers Falls Schools. Your generosity is greatly appreciated!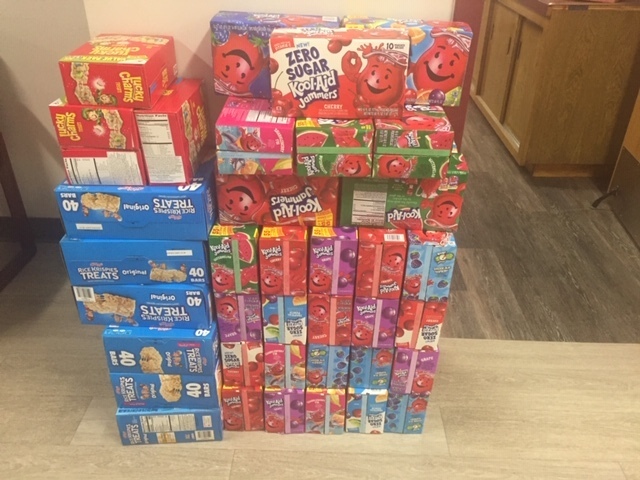 Samantha Shanks does it again! She placed 2nd in the 100 meter dash and 2nd in the 200 meter dash at the Okemah track meet today. Great job!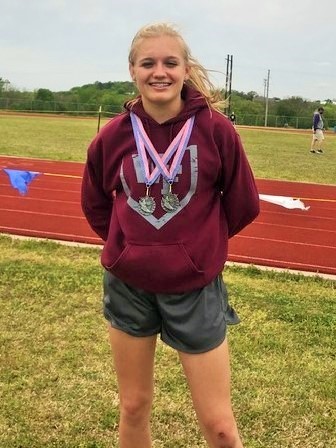 Mrs. Johnson will offer free homework help on Tuesday-Friday... that's all four days... from 3:30-4:30.

Baseball districts are this Thursday, April 18th, at Cameron. Our boys play at 11 and 1.

CORRECTION ON JH BASEBALL GAME: The JH baseball game will be here, next Tuesday, April 23rd, at 5:00 p.m. against Porum.

The baseball games are here today instead of at Gans.

District Softball Update: The districts at Red Oak will be played Wednesday instead of Tuesday due to the inability to get umpires for Tuesday.

Softball games are still on for today. We will play junior high, high school, and JV in that order, starting at 4:30 p.m. The districts originally scheduled for Thursday have been moved to tomorrow (Tuesday). We still play at Red Oak. We play the second game- around noon.

I was off a year on the last All-Stater from WF; it was 1999. Here is the complete list of Lady Warrior All-States: LeAnn Spears, 1983; Neda Peyton, 1986; Shelly Jarrard, 1989; Coletta Peyton, 1989; Michelle Briley, 1991; Rebecca Casady, 1991; Mindi Bedford, 1994; Heather Briley, 1997; Devi Madding, 1997; Trenda Briley, 1998; Amanda Burris, 1999; Shianne Garrison, 2019. (I apologize if any names are misspelled; my husband gave me the list.)

Congratulations to Shianne Garrision! She has been named All-State by the Oklahoma Girls Basketball Coaching Association. This is a great honor that she will share with many preceding Lady Warriors. Our last Lady Warrior All-Stater was Amanda Burris in 1998. Tradition returns!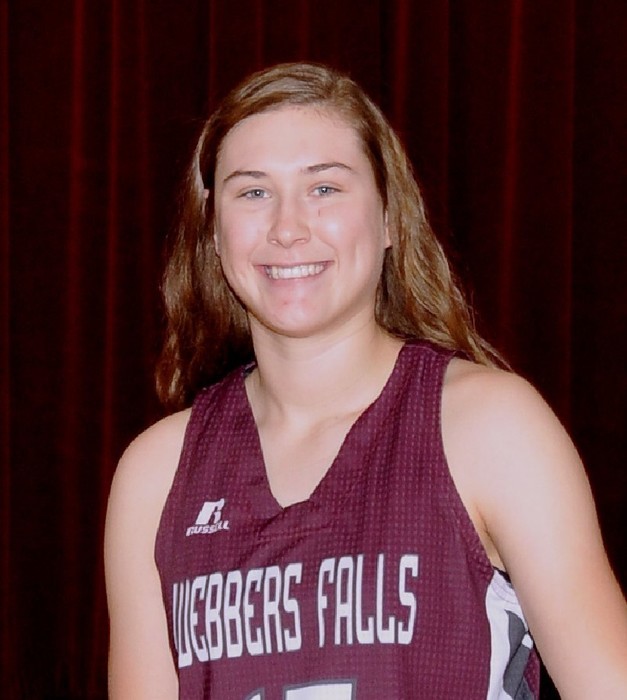 Priority Enrollment at Connors for incoming Freshmen begins April 23. Concurrent Enrollment for Summer and Fall begins April 29. Enroll as soon as you can to get the class schedule you want. Concurrent students will need a counselor permission form before enrolling.

The softball games today will start at 4:30 p.m. We will be playing a varsity game then a junior varsity game. Both games are against Gans. Varnum will not be attending today.

Free math tutoring this week 4/8 and 4/10-12 (that's Monday, Wednesday, Thursday, and Friday) in Mrs. Johnson's room from 3:30-4:30.

Congratulations to the Lady Warriors! Conference Tournament Champions! WARRIOR PRIDE!!!

The Gore/Webbers Falls Ministerial Alliance donated snacks and drinks so that every student, 3rd-8th, who took a state test could have at least one snack before or after testing. We greatly appreciate this donation! If there are other individuals, businesses, or organizations in the community who would like to donate snacks, we will gladly accept them. Thank you for your support!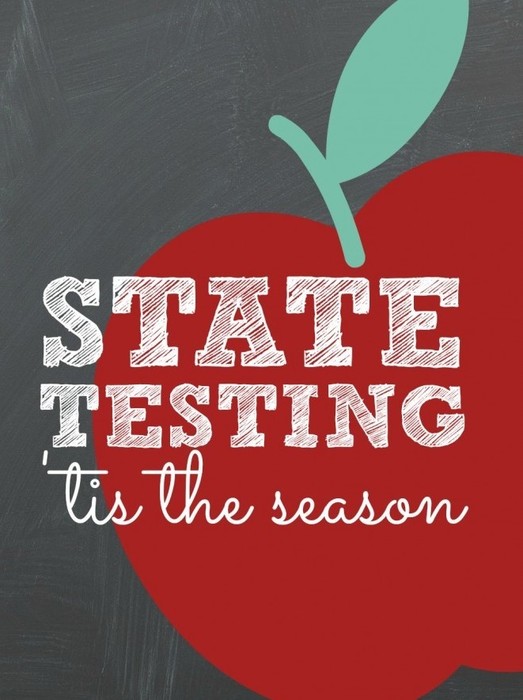 Baseballs games at Arkoma are still on for today.

We will be one of the host sites for the conference softball tournament today. Our girls are scheduled to play at 2:45, 4:00, and 5:15. However, if games finish early the next game will begin before the scheduled time. The teams playing today besides WF are Gore, Gans, and Okay.