Honor Rolls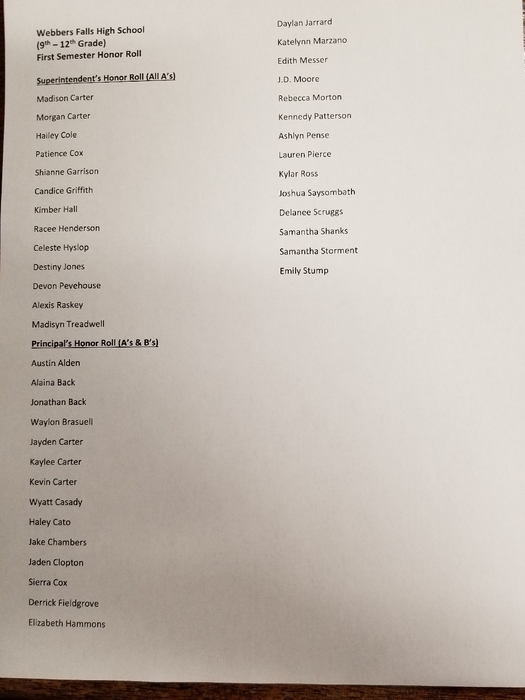 Sweet. End of 1st quarter. WARRIOR PRIDE!!!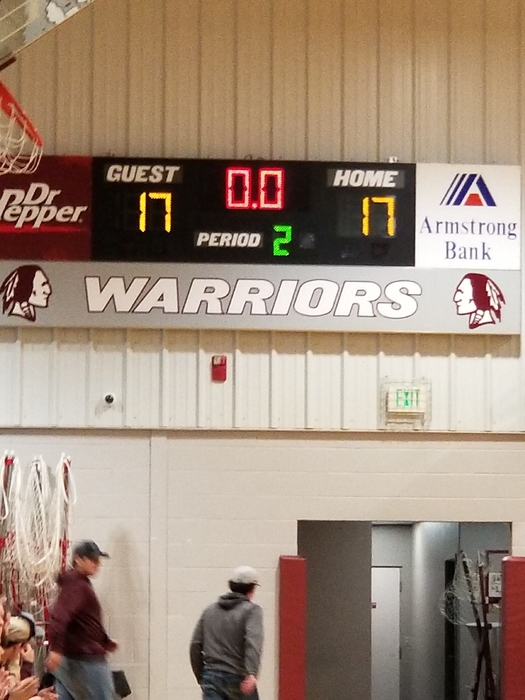 Parents & Guardians of Webbers Falls Students: This call is to notify you that your child will receive his or her first semester report card on Tuesday, January 8th at the end of the school day. Teachers in grades K-2nd usually put the report card in the students' folders that go home daily. Students in grades 3 through 12 are handed the report card and are responsible for bringing it home to their parents. We wanted to notify you in advance so you would know to check your child's folder or ask your child for their report card when they get home. Thank you.

Tuesday, January 15, 2019, Group Pictures: Basketball, Cheer, FFA, StuCo, FCCLA, 4-H

SENIORS: Oklahoma Schools Insurance Group (OSIG) will award 12 scholarships, three in each quadrant of the state. Applicants will be vying for a $2,000, $1,500 and $1,000 scholarship. Only one applicant for each school is allowed. Applications are in Counselor's office. Deadline is March 1.

Indian Capital Career Technology applications are in the councelor's office. Students need to get them now. Completed forms are due back to the counselor 2/1/19. Interviews will be 2/5/19.

Saturday, January 5, 2019 River Valley Swine Jackpot 9 am - Cards due 10 am - Show begins Please come to support our students. WARRIOR PRIDE!!!

Events for the week of January 1, 2019: 31-Mon NO SCHOOL – Christmas Break HS Girls Basketball Scrimmage @ Warner, 12:30 pm 1-Tue HAPPY NEW YEAR, NO SCHOOL 2-Wed Professional Day, NO SCHOOL 3-Thu CLASSES RESUME 4-Fri First Semester Grades Due HS Basketball @ Gore, 6:30 pm Barn open for Jackpot, 5 pm 5-Sat River Valley Swine Jackpot, Weight Cards due-9 am, Jackpot starts-10 am

Events for the week of December 17, 2018: 17-Mon PK-4 Christmas parties, 2:45 pm JH Basketball vs Keota @ WF, 5:30 pm, 2 games 18-Tue Christmas Program, 9 am HS Basketball @ Keota, 6:30 pm, 2 games End of the Second Quarter December 19, 2018 – January 1, 2019 Christmas Break – NO SCHOOL 20-Thu HS Basketball @ Watts, 6:30 pm, 2 games Please come to support our students. WARRIOR PRIDE!!!

Congratulations to Ali Morton for being recognized by Armstrong Bank as a "Favorite Teacher." Ms. Moton was nominated by Lauren Pierce.

Lady Warriors, Porum Tournament Champs. Lady Warriors 41, Porum 33. WARRIOR PRIDE!!!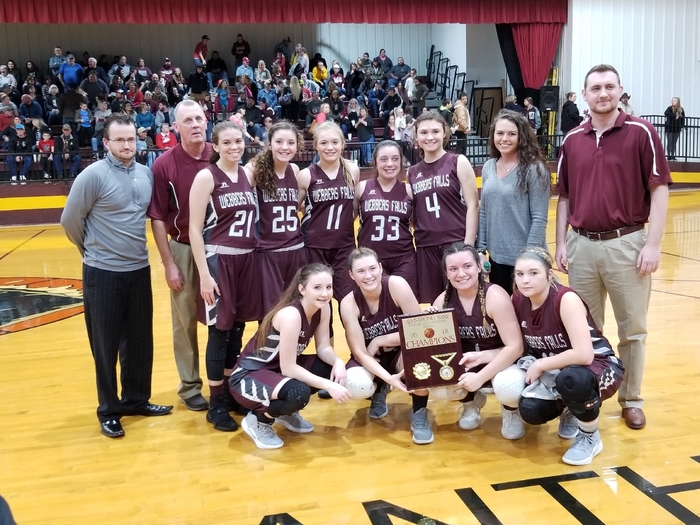 Ladie Warriors are in the finals of the Porum/Armstrong Bank Basketball Tournament tonight, Friday, 12/7/18, at 7:05. Please come out to support our students. WARRIOR PRIDE!!!

Lady Warriors 53. Whitesboro 39. WARRIOR PRIDE!!!

Lady Warriors 63 Cave Springs 23. WARRIOR PRIDE!!!

HS Girls vs Cave Springs @ Porum Basketball Tournament, Tonight, Tuesday, 12/4/18, 7:10 pm

Due to the possibility of inclement weather, a change has been made to the Porum Tournament schedule. The game times will remain the same, however, the games will all be moved up a day beginning Wednesday. So: Thursday games will now be played on Wednesday. Friday games will now be played on Thursday. Saturday games will now be played on Friday. 

Proud to be a Warrior! Lady Warriors defeat McCurtain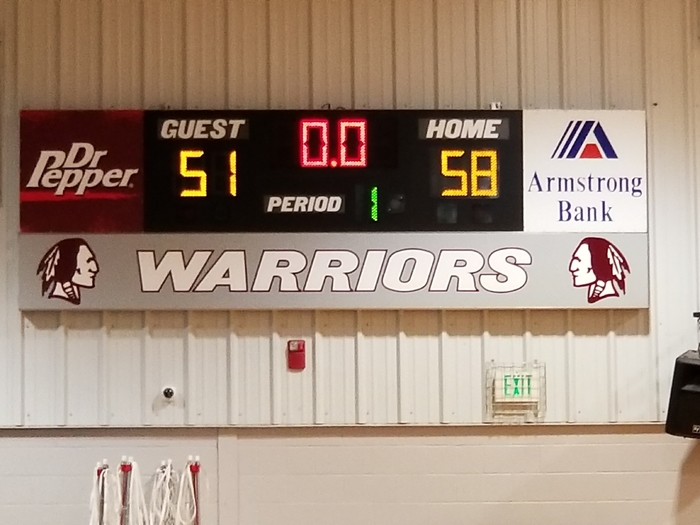 At Webbers Falls Public School, our philosophy is to establish a firm foundation of which students build citizenship and gain skills valuable to themselves and society. Through a safe and positive learning environment, we provide opportunities for each child to obtain pride.

The mission of Webbers Falls Public School is to promote a positive learning school environment, to provide opportunities for every child to gain knowledge, and develop skills that are valuable to the individual and society through cooperative efforts involving both school and community.